Seattle, WA – September 18, 2023 – Prime Consulting Group (PCG), a leading consultancy in process automation and collaborative workforce management, has been named the Smartsheet 2023 Partner of the Year for North America at the annual Smartsheet Global Partner Summit. This prestigious recognition underscores Prime Consulting Group's commitment and overall excellence in sales, innovation, technology, delivery services and implementation, and post-live support and training.
The Smartsheet Partner of the Year award acknowledges the partner who delivered the strongest year-over-year revenue growth.
"We congratulate Prime Consulting Group on being our Partner of the Year – North America for 2023," said Greg Schwager, Head of Americas Channel, Smartsheet. "Prime achieved their outstanding sales performance through depth of Smartsheet platform expertise, broad services capabilities, and commitment to customer satisfaction."
"In receiving this award, we're not just celebrating our success, but the success of our clients, who have achieved new heights of productivity and efficiency through our combined efforts with Smartsheet. This recognition fortifies our commitment to Smartsheet and their pursuit of continued innovation in the collaborative work management (CWM) space," remarked James Green, Managing Director of Prime Consulting Group.
Prime Consulting Group is not new to receiving awards at the Smartsheet ENGAGE conference. They took home the 2022 Rookie of the Year honor at last year's Global Partner Summit and were also named Smartsheet 'Bridge' Partner Year alongside North America Partner of the Year for 2023.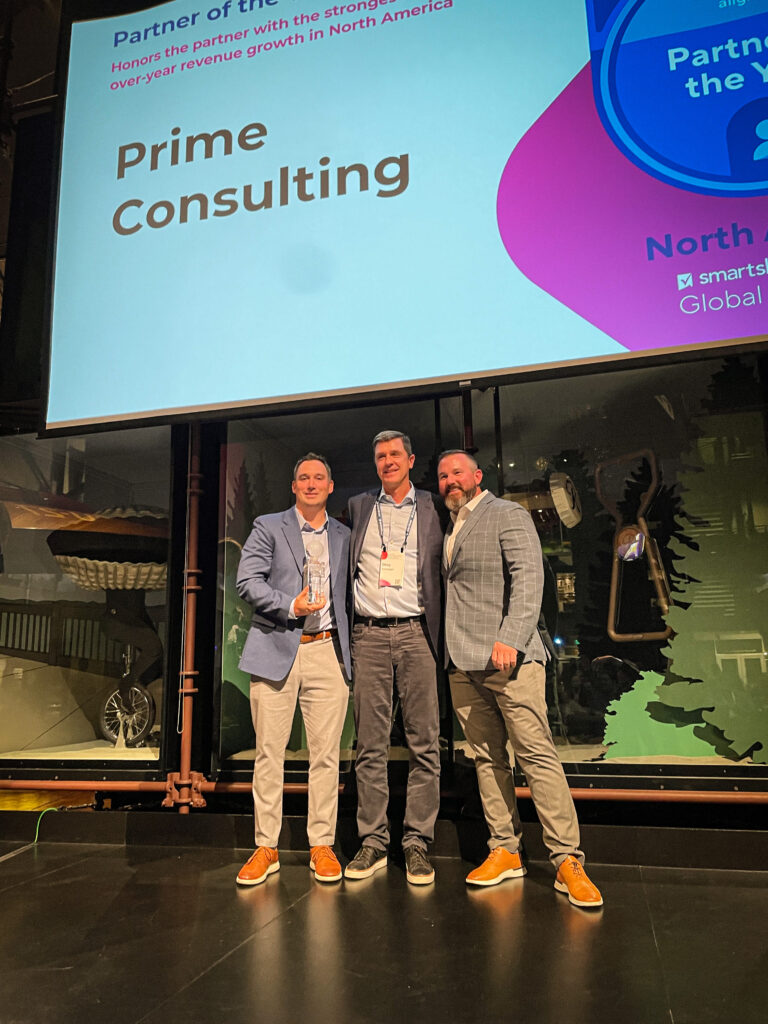 From startups to Fortune 500 customers, Prime Consulting Group has an impressive portfolio of clients who they have assisted in transforming their business to streamline operations, boost productivity, and foster collaboration with the Smartsheet platform's wide range of capabilities. "Prime Consulting Group and Smartsheet share a relentless passion for customer outcomes, success, and making sure our clients unlock the robust value of the Smartsheet platform," said Shawn Cerretani, Managing Director of Prime Consulting Group. "Due to the commitment Smartsheet makes for continued innovation across their offerings, we are not only excited for our current relationship, but also the future heights our strategic partnership will reach."
Prime Consulting Group – Smartsheet Highlights
2023 Partner of the Year – North America
2023 'Bridge' Partner of the Year
2022 'Rookie' Partner of the Year
About Prime Consulting Group
Prime Consulting Group is a platinum partner in the Smartsheet Aligned Partner Network, focused on collaborative work management solutions. Prime Consulting Group has a team of experts who strive to provide excellent customer experiences and are committed to unlocking unprecedented value for their customers.
Discover how Prime Consulting, in tandem with Smartsheet, is redefining the standards of Collaborative Workforce Management. For more insights and offerings, visit https://primeconsulting.com or get in touch directly through the contact details provided below.
For press inquiries, please contact:
Public Relations
Prime Consulting Group (PCG)
social@primeconsulting.com
@primesmartsheet